Beside methods describing how to properly carry out an isokinetic sampling, there are also other methods defining the procedures and devices to determine water content, density, flue gas velocity or the sampling grid and other aspects. Those methods are:
EN16911 Manual and automatic determination of velocity and volume flow rate in ducts
EN14790 Determination of the water vapour in ducts
EN15259 Measurement of stationary source emissions
EPA M1 Sample/Velocity Traverses
EPA M2 Determination of Stack Gas Velocity and Volumetric Flow Rate
EPA M3 Determination of Dry Molecular Weight
EPA M4 Moisture Content
The isokinetic condition
When sampling particulate matter from a stationary source it is important to respect the isokinetic condition.
We are in isokinetism when the flue gas velocity travelling along the duct (vd) is equal to the flue gas velocity entering the sampling line through the nozzle (vn).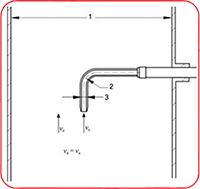 1) duct
2) Radius of the bend (min. 1,5i)
3) Internal diameter i
When the above condition is not met, then we may have the hypokinetic or the hypokinetism condition.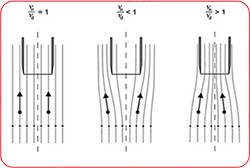 In particular, when Vn ‹ Vd, we are in hypokinetism and the particles are dragged inside the nozzle because of the "sling effect" due to the flow stream deviation.
For the same effect, when Vn › Vd, the particles are thrown out of the stream and do not enter the nozzle.
The above situations result in a over or underestimation of the mass concentration mainly in relation to the particulate matter size distribution.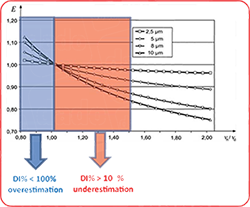 The deviation from the isokinetic condition affects particles with aerodynamic diameter greater than 2.5 um.
Since the weight of the particles increases esponentially with the diameter, the lost of bigger particles will result cause an increase of the errors.